Regular price
$295.00 USD
Regular price
Sale price
$295.00 USD
Unit price
per
Sale
Coming Soon
Size Chart
Description

The Colby + Yamamoto 3/2mm  Chest Zip Fullsuit is designed for cool to mildly warm conditions, typically used in water temps in the high 50s to mid 60s.  

Like all Colby + wetsuits, it features Yamamoto #39 in the torso for durability, shape retention and warmth, and Yamamoto #40 in the shoulders and arms for added flexibility and freedom to reduce paddling fatigue.  We use a custom-made jersey from the world's premiere jersey provider which has a silky hand feel with amazing stretch and resilience.

The Colby + Yamamoto 3/2mm Chest Zip Fullsuit features triple-glued and blindstitched (GBS) seams with internal taping in critical areas (those that take the most abuse).  GBS stitching combined with internal tape will improve the longevity of the suit and also helps reduce leakage from sew-through.  It doesn't completely alleviate it, but certainly helps. 

To help alleviate leakage, and importantly, we've applied a rubberized liquid seal treatment to the exterior seams, which ends just below the armpits.  This will dramatically reduce leakage in the lower body, crotch and torso.  And because we've left it off of the arms and shoulders, you'll have unmatched freedom and flexibility in the upper body.  


The chest zip design is a tried-and-true standard and features an all-metal YKK zipper pull which will outlast the life of the neoprene.  It's tough as nails, but not too bulky or heavy.  


The dark grey upper body jersey turns nearly black when wet and also indicates where the Yamamoto #40 is used.
Features

| FEATURES | PROS / BENEFITS | CONS / TRADE-OFFS |
| --- | --- | --- |
| Yamamoto Neoprene | Soft and flexible feel. Fantastic warmth and lightweight as well. | More expensive per yard and if not taken care of, will degrade like other neoprene (no faster, but not impervious to mishandling) |
| Jersey | Our proprietary jersey lining is the most comfortable and flexible we've ever felt (and surfed in) | Not as bullet proof as cheaper jerseys |
| Liquid sealed seams | Reduces the inflow of water through seams and pinholes from sewing needles | Reduces flexibility and can delaminate if left in the sun to bake |
| Extra durable knee pads | Won't delaminate or fail as easily for guys that drag a knee when popping up or push under waves using their knee on the tail | Slightly less flexible |
| Watertight zip | Reduces leakage through zipper teeth | Water will still get in the wetsuit (slowly), but this is how it's meant to work. The other tradeoff is it's a bit more expensive than the non-water-tight zips |
| Triple glued + blindstitched construction | No buildup around seams to give you a rash. More mobility in your upper body | More expensive and hand-constructed, so if there's human error (missing a spot of glue for example), it can sometimes be felt in the form of water seepage/leaking or even failed seams (warranty will cover for 1 year) |
| Internal neoprene taped seams | Adds strength to the seams and helps prevent additional water seepage/leaking | More expensive to produce. Can limit flexibility (though not as much as liquid seal treatment), and sometimes will delaminate if not taken care of (left in the sun) or wasn't properly glued at the factory (warranty will cover) |
Shipping & Returns

RETURNS AND EXCHANGES

We want you to love our products. On this page you will find details about how to return or exchange your purchases made online.

RETURN AND EXCHANGE POLICY

If you wish to return or exchange a product you've purchased from us, for any reason, we will refund the purchase price or exchange those products subject to the following conditions:



Items must be returned within 30 days of purchase with the original receipt or other proof of purchase
The returned items must not be used [Not surfed in], has any sand or residue, or damaged in any way.
If you request a refund, the purchase price (excluding delivery charges for online) will be refunded to you using the original payment method once we have received the returned item back and confirmed that it meets conditions 1 and 2 above.  If a product is returned used or damaged, the product will be sent back to the return address.

We pay for return shipping (to us), as well as shipping all exchanges back to you:)

RETURN PROCESS

Please contact us via email or phone:

info@colbyplus.com

(805) 702-1818

From there we will send you a prepaid return label via the email we have on the order. When sending the return back, please make sure the suit is rolled up loosely and not awkwardly folded or creased in any way (leaves permanent damage).

Please also do us a favor, and include your name, order number and "return for refund OR "exchange for [fill in the size you'd like]" on a note w/in the package - that'll speed things up!
Warranty and Repair

Wetsuit Warranty and Repair Policy

At Colby +, we stand behind the quality of our wetsuits and are committed to providing our customers with the best possible service. As such, we offer a warranty and repair policy for our wetsuits, as outlined below.

Please note:  Warranty does not apply to Clearance Items.

Warranty Policy:

All Colby + wetsuits are covered by a limited warranty against defects in materials and workmanship for a period of 1-year from the date of purchase. This warranty is only applicable to the original purchaser and is non-transferable.

If a defect in materials or workmanship is found within the warranty period, we will repair or replace the wetsuit free of charge. The decision to repair or replace the wetsuit will be at the sole discretion of Colby +. This warranty does not cover normal wear and tear, damage caused by misuse, abuse, or neglect, or damage caused by accidents or environmental factors.

To make a warranty claim, the customer must provide proof of purchase and contact our customer service team (

info@colbyplus.com

). The customer will be responsible for the cost of shipping the wetsuit to our repair facility. If the warranty claim is approved, we will cover the cost of returning the repaired or replaced wetsuit to the customer.

Repair Policy:

If a customer's Colby + wetsuit is damaged outside of the warranty period or if the damage is not covered by the warranty, we offer a repair service. Our repair team will assess the damage and provide the customer with a quote for the cost of the repair.

The customer will be responsible for the cost of shipping the wetsuit to our repair facility and the cost of the repair. Once the repair is complete, we will cover the cost of returning the wetsuit to the customer.

Please note that not all damage is repairable, and our repair team will make the final decision on whether a repair is possible.

Where Do I Send My Wetsuit?

Please send your suit to

:

Colby +

130 Los Aguajes Ave

Santa Barbara, CA 93101

Attn. repairs

What Happens After I Send My Suit In?

If our repair team find

s

 

the repairs are under warranty, we'll quickly repair or replace the suit and send it back ASAP.

For non-warranty repairs, our repair team will assess and reach back out with an update and price quote if necessary.  Once approved, the repair will be completed and the suit returned ASAP.  

Further Questions

?

To make a warranty claim or inquire about our repair service, please contact our customer service team at [insert contact information].

We appreciate your business and look forward to providing you with the best possible service.
Share
View full details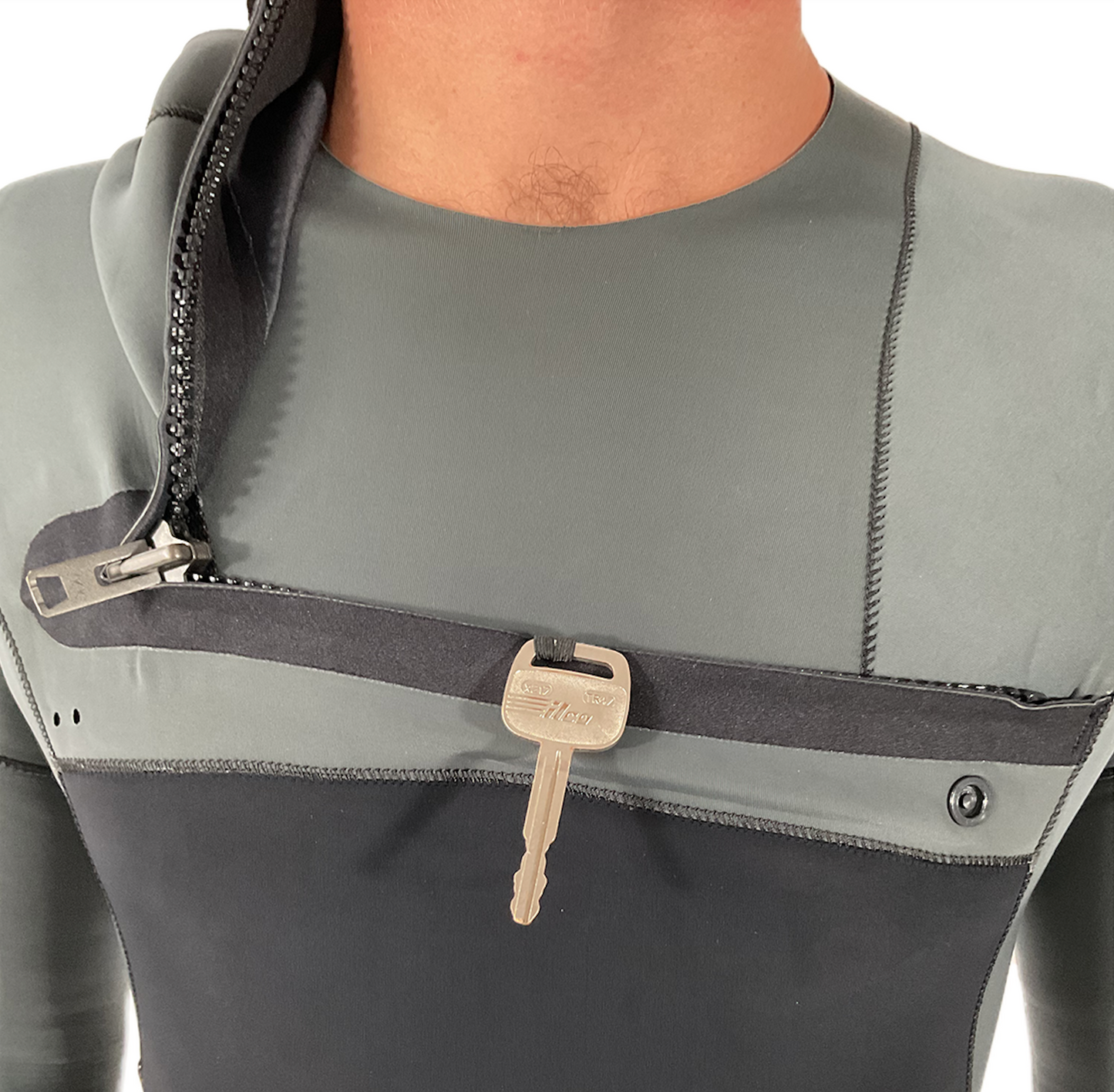 Size Chart
If you have any questions about fit, please hit us up - we'd love to help you get the right size on your first try!   Please note, the fit on our clearance inventory is slimmer and slightly longer...And you'll find the clearance suits to be less flexible and a bit tougher to get on and off.  The Colby + suits have a more generous opening, are noticeably lighter and more flexible, BUT are slightly shorter in the torso, arms and legs.  So, if you're in between sizes, we recommend going with the "taller" size for the Colby + suits.  
| | | |
| --- | --- | --- |
| XS | 5'6 - 5'7 | 125 - 140 |
| S | 5'8 - 5'9 | 135 - 155 |
| ST | 5'9 - 5'11 | 135 - 155 |
| MS | 5'8 - 5'9 | 155 - 175 |
| M | 5'9 - 5'10 | 155 - 175 |
| MT | 5'10 - 6'0 | 155 - 175 |
| LS | 5'9 - 5'10 | 170 - 185 |
| L | 5'10 - 6'1 | 170 - 185 |
| LT | 6'1 - 6'3 | 175 - 190 |
| XLS | 5'10 - 6'0 | 195 - 210 |
| XL | 6'0 - 6'3 | 195 - 210 |
| XLT | 6'2 - 6'5 | 195 - 210 |
| XXL | 6'1 - 6'4 | 215 - 235 |
I love this suit!
Amazing value for a Yamamoto suit. Paddles like a dream and super warm. I really like the material on the inside of the suit it appears to be next level.
Geat a wetsuit, needs some adjustments
Generally a good wetsuit. Kinda leaky around the armpit and sleeves. The other issue is that there tends to be this weird bulge feeling in the upper back like something is folding over. The key dongle is too thin and it makes getting your key off difficult.
3/2 Chest zip
Hands down awesome wetsuit! Excellent deal on a high end wetsuit using Yamamoto neoprene. Compared it to my friends Matuse and Feral wetsuit, this easily comps both. In fact I would say its better than a Feral. Matuse is great too and slightly better but not by much; it's because they've been in the business for a while. I can see Colby+ being one of the tops in the near future because of the use high end Yamamoto neoprene. Super flexible, light, buttery feel, and super warm! Amazing suit and hopefully Colby+ keeps their cost like it is as I can see it becoming a huge wetsuit brand in the future. Get on it now if you're contemplating because again these are high end! Peace.
Colby + Yamamoto 2/3
The Yamamoto rubber is very flexible and extremely comfortable, feels light in the water which I love. also, it is exceptionally warm for a 3/2. The overall fit is good. The only thing that I can say negative about the suit is that it is a little tight around the chest and neck area for me. I've only worn the suit twice so I think when it breaks in a bit it will be perfect. Overall, very much liking the new suit and you can't beat the price.
Perfect fit, buttery soft, and so well made!!
Just got this new wetsuit from Colby+ and was blown away by the comfortable fit, warmth, and flexibility. For a seasoned surfer like me, this wettie was one of the best I've ever had. Yamamoto materials, design, and construction are top quality. Thanks to the Colby+ crew!